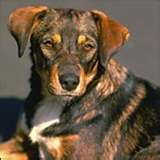 Your Senior Pet
What is the definition of a "Senior"? There is no exact definition of when a pet is considered senior as there is a lot of variation in how pets of different sizes or breeds age. One approach is to consider any pet that has reached 75-80% of it's predicted life span for their species and breed, as senior. Another theory is to multiply your pet's age by 7 to achieve the equivalent age in human years. Generally, dogs are considered senior from age 7-9 years of age, and cats from 9 years.
Senior Wellness Exams and Testing
The American Animal Hospital Association (AAHA) and Northwoods Animal Hospital, believe in preventative healthcare, meaning that if we take a more proactive approach to our pet's healthcare, we can significantly improve our pet's longevity and quality of life through early intervention and prevention. This includes twice yearly physical exams for our Senior patients, as well as annual comprehensive bloodwork analysis. This approach helps establish normal baselines for your pet so that any changes or problems are detected early and can be addressed before a process becomes more advanced.
Comprehensive Senior Wellness Program Goals:
Promote early detection of disease in apparently healthy pets
Prevent or delay illness and death whenever possible
Define common clinical conditions in senior pets
Define screening tests, diagnosis, treatment, anesthesia, and surgery related issues as applicable to seniors.
Provide a framework to evaluate quality of life
Assist in end-of-life decision making
The Senior Physical Exam:
Obtain a thorough history, including behavior changes, diet and nutrition, changes in appetite, mobility, etc.
Complete a thorough physical exam with attetnion to changes in dental health, weight, and mobility in addition to a thorough body systems exam
Specialized tests such as ocular pressure, blood pressure determinations, ECG, radiographs, etc. based on pet's history and exam findings
Blood Work Analysis
Comprehensive evaluation of organ systems to detect early problems, including a Complete Blood Count, Complete Chemical Screen, Urinalysis, thyroid testing, and additional tests based on individual needs
Therapeutic drug monitoring. Many of our Senior pets have need for chronic medications or may need them in the future. blood work is essential to evaluate therapeutic levels vs. toxic levels for some drugs, as well as to determine the body's ability to metabolize certain drugs via the liver and kidneys