Boarding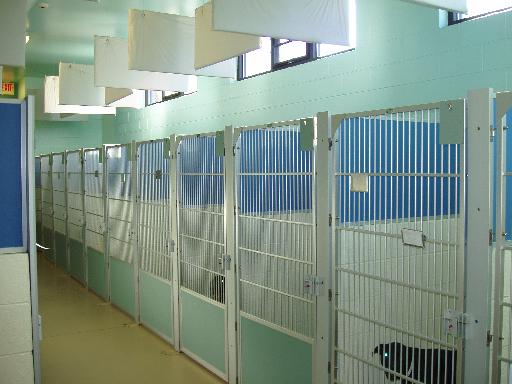 The boarding facilities at Northwoods Animal Hospital provide our patients with a first-rate "home away from home" under the supervision of our veterinary staff. We accept boarding reservations for existing clients and can accommodate cats, dogs and most pocket pets. Our boarders are housed in a climate-controlled, sanitized boarding kennel attached to our hospital where your pet is easily monitored by our veterinary staff.
In the canine kennel, we offer a variety of individual kennels and runs to accommodate all sizes of dogs. Our canine guests are given plenty of attention daily, are taken for leash walks three times a day (twice daily on Sundays) and offered fresh, clean bedding each morning. We have Purina Canine EN dry kibble to offer, or owners may pack their own meals to be fed.
Feline guests have their own private kennels in which to relax away from the din and commotion of the canine kennel. We offer Purina Adult Feline dry kibble at no charge and have canned food available for purchase.
We encourage our pet owners to bring blankets, toys and/or food from home to make your pet feel more at ease. Any food brought in should be placed in individual ziploc bags for each meal. Pets are welcome to board in private kennels or, when available, can be placed in a run with a sibling.
As an added bonus your pet is automatically enrolled in our Boarding Club which entitles your pet a free night's stay with us after 10 nights of boarding!
Policies
Drop-off and pick-up times for boarding animals are 7:30am to 5:30pm Monday through Friday, and 8:30am to 1:00pm on Saturday.
Reservations are required for boarders. To make reservations for your pet's stay, call a Northwoods receptionist at 481-2987.
All boarders must be current patients of Northwoods Animal Hospital. This requires that all boarders have had a complete physical exam by one of our veterinarians within the past 12 months. These exams must have occurred prior to your boarding reservation date.
All boarders must have current vaccinations to help protect all animals staying in our hospital. For dogs, we require current Distemper/Parvo, Bordetella and Rabies vaccines. For cats, we require current Distemper and Rabies vaccines.