Dentistry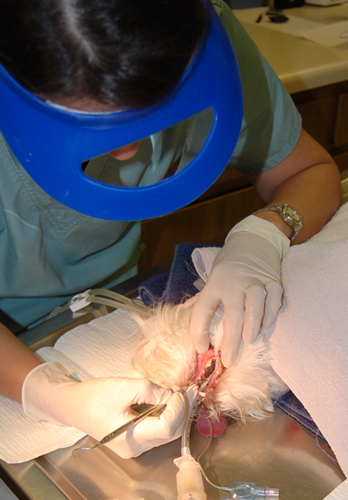 Oral hygiene is just as important for our pets as it is for our family. Home dental care coupled with periodic professional dental cleaning helps our pets live longer, happier lives.

If teeth are not kept clean, one of the first signs you will notice from your pet is bad breath, which is caused by tartar and plaque accumulations. Bacterial and tartar build up under the edge of the gums leads to gingivitis (gum infection), bad breath and eventually to tooth loss. In addition to the pain and discomfort associated with gingivitis, bacteria and toxins from the mouth are absorbed into the bloodstream and may damage the heart, kidneys and liver.

Dental cleaning at Northwoods Animal Hospital includes a thorough examination of the mouth, ultrasonic scaling of the teeth to remove tartar, sub-gingival cleaning, extraction of diseased or loose teeth, polishing and fluoride treatment. Professional dental cleaning for dogs and cats requires the use of general anesthesia. A pre-anesthetic blood panel is recommended for all patients to assist the doctor in determining the appropriate anesthetic drugs. This panel is required for all animals seven years of age or older. Pets receiving general anesthesia must be fasted the evening prior to their scheduled dental cleaning. Your pet is admitted in the morning and will be discharged the same afternoon.

The frequency of professional dental cleanings your pet needs depends on your individual pet and your efforts at keeping the teeth clean. Remember, proper dental care can add many happier, healthier years to your pet's life!