Laboratory Services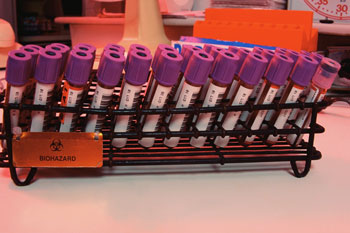 In-House and Outside Laboratory Testing
Our in-house laboratory facilities allow us to quickly provide our patients with accurate diagnostic bloodwork immediately when necessary. We utilize a full range of modern equipment to perform blood CBC, Chemistry, Electrolytes, Glucose Curves, Urinalysis, fecal exams, as well as the diagnosing of many other diseases.
Additionally, we have relationships with several outside veterinary laboratories for more specialized and routine testing.
DNA Testing
We also offer DNA testing for your mixed breed dog. A small blood sample compares your dog to the DNA signatures of over 200 breeds, sub-types and varieties. The DNA information gained can predict your dog's adult weight range, prescreen for breed related risk of developing certain genetic diseases and provides us with valuable information so we can work together to provide a lifetime care plan for your dog. Contact us for more information!!